Frank Sinatra Home, Palm Springs CA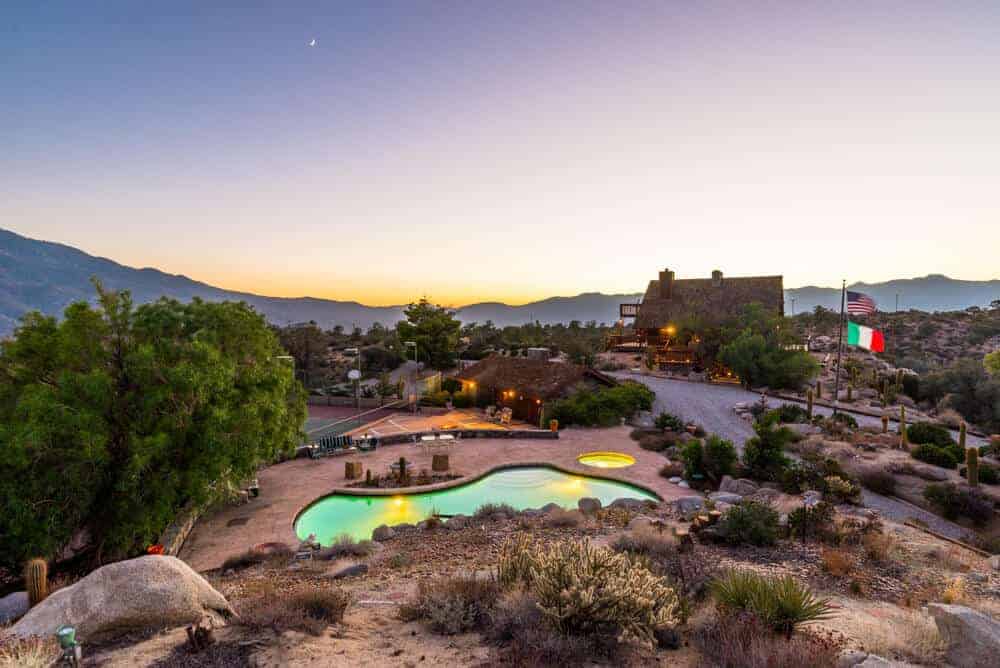 70300 San Lorenzo Rd., Palm Desert, CA
Resting high above the Coachella Valley, Palm Desert and PalmSprings, Villa Maggio offers a unique, once-in-a-lifetime opportunity to own an iconic and treasured estate that Frank Sinatra personally helped design and build.
Panoramic views of the mountains and valleys are on full display throughout this secluded and private escape, which includes 3 buildings, a resort-style pool, a lighted tennis court and helipad, parking ideal for a someone who uses few dozen cars and approximately 7.5 acres of land.
The Sinatra house had a dual purpose in the design of the estate: a desire to escape the oppressive heat of the desert valley below and a need to provide his friends, which included traveling dignitaries, sports stars, elite power players and members of the Rat Pack, with the ultimate in luxury and comfort as well as the utmost in privacy and security.
With an extensive use of locally-sourced materials, including natural stone and hardwoods, the residence adds beauty to the surrounding environment. Wide overhanging eaves provide palms shade and reduce the ecological footprint. Hardwood floors, numerous fireplaces, and vaulted ceilings with exposed wood beams give the estate an understated and relaxing, down-to-earth atmosphere; the commercial grade appliances in the main home's two full kitchens make it more than ready for vacation rentals, guests and the demands of modern life.
Recognized as the quintessential entertainer, Frank Sinatra ensured the Sinatra house was on par with the resorts and luxury hotels where his friends were accustomed to staying. The two-story guest home offers three guest suites, each with a private view deck, stone fireplace, kitchenette, and bathroom. If the walls could talk, a likely topic of conversation would have to be about who traveled in the secret passage between two of the guesthouse bedrooms and its numerous uses.
Frank Sinatra's Home Palm Springs CA
The same qualities that Frank Sinatra sought to incorporate in the original design of the Sinatra House still resonate with modern celebrities and power players: ease of access, security, privacy, resort-style amenities for entertaining, and space from the neighbors. Set on a secluded palms surrounded, 7.5 acre lot at the end of a gated, private drive, the estate is located within 20 minutes of the heart of Palm Desert, with its high-end boutique shopping and numerous fine dining options and fun events on El Paseo, and of course full view of palms and various dinner parties. The PSP Airport is also just 26 miles away the Frank Sinatra named residence, a short jaunt by helicopter.
Pure Sinatra, the grand scope and vision of the estate reflect his focus on 'doing things his way.' Affectionately named for a character that earned him an Oscar in From Here to Eternity, Villa Maggio was a personal residence for the icon for many years: a treasured retreat that he built with the aim of providing his friends and family with an other-worldly, private escape for fun, relaxation, and of course, epic dinner parties and events surrounded by palms. As many of the details reflect Frank Sinatra's personal taste and preferences, the character and style of the Frank Sinatra home have been lovingly preserved and maintained for the next owner to enjoy. With a total of eight bedrooms, 12.5 bathrooms, and nine fireplaces, the Frank Sinatra named estate offers something for everyone and an unprecedented opportunity to own a piece of iconic history.