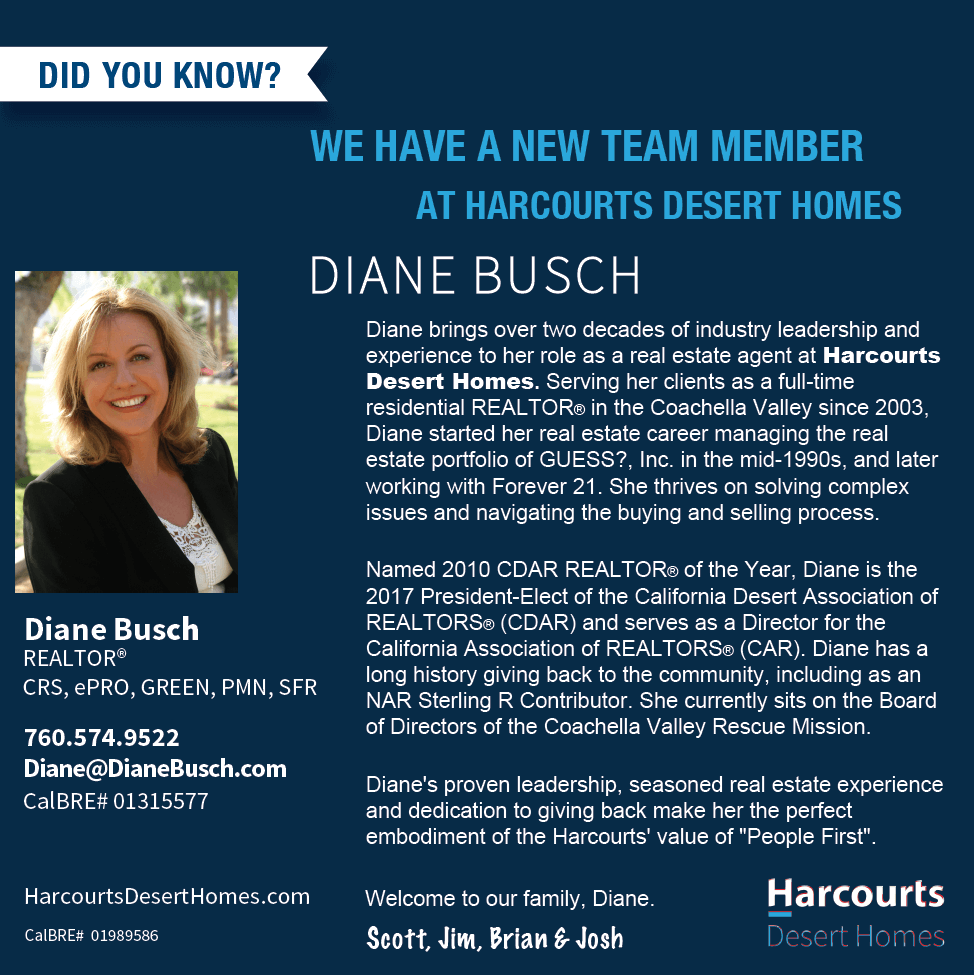 HARCOURTS DESERT HOMES WELCOMES DIANE BUSCH
Harcourts Desert Homes is excited to welcome Realtor® Diane Busch as an integral part of it's rapidly growing Coachella Valley brokerage. Diane brings over two decades of industry leadership and experience in real estate to Harcourts Desert Homes. Working as a full-time residential Realtor® in the Coachella Valley since 2003, Diane excels at helping clients understand and successfully manage the buying and selling process.
"I am extremely excited to join the growing Harcourts brand and taking my business to the next level," said Diane Busch. "Harcourts gives me the best of both worlds – a longtime internationally recognized brand with industry leading tools along with the personalized focus of a boutique office."
Diane started her real estate career managing the real estate portfolio of GUESS?, Inc. in the mid-1990s, and later working with Forever 21. She is a savvy negotiator and thrives on solving complex issues. Her in depth knowledge of CAR, real estate processes and contracts makes her a valued asset to her clients and to Harcourts Desert Homes.
"I've known Scott Palermo, Jim Sanak, Brian Rix and Josh Zipperman for many years. I am thrilled to be working with such well-known and established business leaders in our community," said Busch.
Diane is the 2017 President-Elect of the California Desert Association of REALTORS® (CDAR) and was named CDAR REALTOR® of the Year in 2010. She continues to serve as a State Director for the California Association of REALTORS® (CAR). Diane has a long history of giving back to the community, including as a local and state officer of Women's Council of REALTORS® and as an NAR Sterling R Contributor. Locally, she currently sits on the Board of Directors of the Coachella Valley Rescue Mission.
"When I moved to the desert from Los Angeles thirteen years ago, it was my goal to become more engaged and involved with my community. I believe in giving back both to my real estate industry and to those in our community", said Busch.
Diane is an avid tennis player and sports enthusiast. She prides herself on being an excellent communicator and maintaining honesty, integrity and passion in all her endeavors.
Harcourts Desert Homes is honored to have Diane Busch join our family! Diane Busch can be reached at (760) 574-9522 or via email at Diane@DianeBusch.com. To learn more about Harcourts Desert Homes, call Managing Broker Scott Palermo (760) 808-6415 or visit online at www.HarcourtsDesertHomes.com and follow on social media with the hashtag #HarcourtsDH.